Parasite 'could become established in the UK'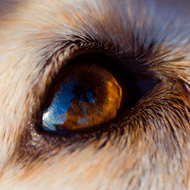 done to prevent this zoonotic
pathogen from becoming endemic
Two new cases of canine ocular thelaziosis have been confirmed in the UK, prompting researchers to warn that the parasite could become established here.
The cases also highlight a gap in preventative treatments covered by the Pet Travel Scheme (PETS), and vets are being encouraged to discuss treatment options with pet owners travelling to countries whereThelazia callipaeda is endemic.
Adult T. callipaeda are found in the eyes and associated tissues. The UK's first known case was reported last year in a dog that had recently been imported from Romania. Since then two further cases have been confirmed, one in a dog that had returned from travel in northern Italy, and the other in a dog that had spent a month in France.
All three dogs were compliant with the requirements of PETS, including microchipping, rabies vaccination and a tapeworm treatment administered by a veterinary surgeon. Dog three had also been treated with its routine wormer and shop-bought flea treatment after re-entry into the UK.
Researchers wrote in Vet Record: 'These three cases demonstrate the risk of introducing T. callipaeda to the UK through dogs being imported from and travelling to geographical locations where T. callipaeda is known to be endemic.
'Furthermore, since T. callipaeda is zoonotic and capable of infecting several other mammalian species, both people and cats should also be considered at risk of infection when travelling to such areas.'
Gravid females were found in cases one and two, which, added to the presence of a vector in the UK, 'highlights the potential for the parasite to become established in the UK,' researchers explained.
Only milbemycin and moxidectin have been registered against ocular thelaziosis to date, which highlights a 'notable gap' in preventative treatments included under PETS.
'…we would encourage veterinarians to discuss the relevant treatment options with owners planning on travelling to or returning from such areas with their pets,' the team added.
Vigilance is also advised when examining travelled dogs.
T. callipaeda is becoming increasingly common in Europe, with autochthonous transmission occurring in Italy, France, Switzerland, Germany, Spain, Portugal, Bosnia and Herzegovina, Croatia, Romania, Bulgaria, Hungary and Greece. Further cases have also been reported in Belgium and Serbia.
In some areas, such as Italy's Basilicata region, the reported prevalence in dogs exceeds 40 per cent. Human cases have also been seen in Spain, Italy, France, Croatia and Serbia.
PETS allows dogs to travel to and from countries in the EU without being quarantined. Owners are required to adhere to a number of requirements to prevent the importation of disease, namely rabies and Echinococcus multilocularis.
Researchers wrote: 'Given the relatively free and regular movement of dogs into and out of the UK from mainland Europe and importation from rescue charities under this scheme, other pathogens, including T. callipaeda, pose a significant threat to the UK canine population.'
The research team said further investigation is needed to determine the distribution and population density of the vector in the UK, which would help to establish the risk of T. callipaeda becoming endemic in the UK.
They added: 'Although effective diagnostic tests and treatments are available, more can and should be done to prevent this zoonotic pathogen from becoming endemic in the UK.'